Welcome to the 2017 Gold Challenge
We are inviting you to join the #2017GoldChallenge presented by ilovetorun. There are two options to choose from: go for the distance and Run/Walk 1,000 Miles or go for time and Run/Walk/Exercise 100 Days starting January 1st and ending December 31st 2017.
Completing the GOLD Challenge isn't about being fast or even athletic. It's about making the commitment and once you reach your goal, there's no other feeling like it. And you get the gold!
We would love to see you achieve this Gold Goal, whether be it 1000Miles1Year or 100DaysOfMiles! We will be here to cheer you on, provide support, share the miles, and make you laugh through it all! Join the #2017GoldChallenge and make it the best YEAR EVER. Make 2017 a Golden Year!
Here's how it works
Create an account

Set up your profile for access to your activity feed, training log, training calendar, etc.

Join the challenge

Choose one or all - 1000Miles1Year and/or 100DaysOfMiles, 100Miles1Month, etc (click on the CHALLENGES button in the menu)

Track your activity

You can track your runs manually or import them from your preferred app or tracker such as FitBit, MapMyRun, RunKeeper, Garmin, Strava, etc.

See your progress

Visually see your progress on a daily/weekly/monthly/yearly on your Activity feed and challenge pages

See your friend's activity

On the Challenge page, search for your friend(s) by first or last name. See their progress, leave comments, post pictures, etc.

Have fun!

This challenge is about you, and not about the unicorn runners who circle the world super fast at super speed. You'll see them upfront, so support them in all their glory ☺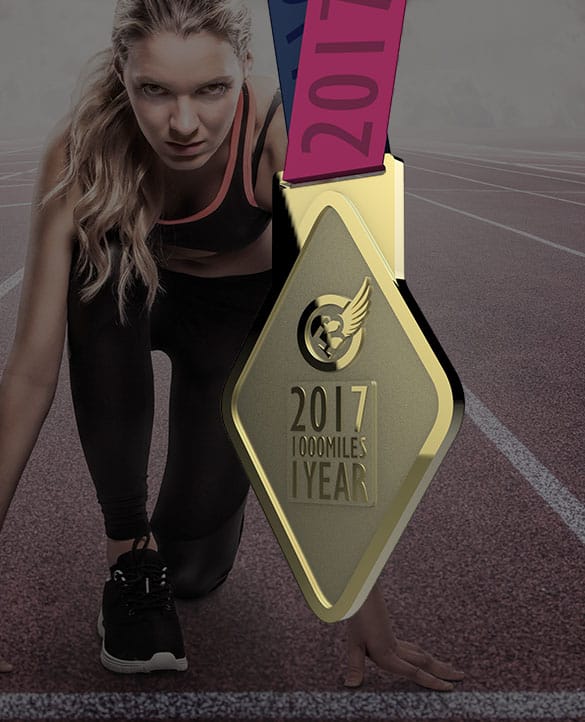 What's in it for you -- besides the awesome feeling of accomplishment?
THE AWESOME BLING...
Commemorate your #2017GoldChallenge journey with this lover's dream finisher medal. If you love medals you'll want to add this one to your rack as well. It will make 2017 a true golden year.
THE SUPER UBER PERFORMANCE SHIRTS...
"Make it something to talk about"? As a #2017GoldChallenge participant we want you to share your journey and with this super uber performance shirts they'll be asking. Starter tee: DESTROY EXCUSES. Finisher tee: EARNED, NOT GIVEN.
A NEW BEGINNING...
Lacing up for the first time ever or lacing up after taking a long period off is rough. You wonder "why am i doing this" at times you want to quit, but you want the benefits that come from running
A BETTER YOU...
Others run to raise money for charities, while many run for the challenge and sense of accomplishment. Regardless of why you run the races you do, everyone gets recognition for having done it.
YOUR CHOICE OF GOLD PAKAGE
Three options to go for the GOLD: 2017 GOLD Challenge Medal, Premium GOLD and The Ultimate GOLD.
MOTIVATION, INSPIRATION & FUN ALL YEAR LONG
Join our 300,000+ Facebook community! We celebrate - and sometimes poke fun at - the vibrant culture of running. Whether you're a high school track athlete, a road-racing old-timer, or just trying to survive your first 5k, we expect you'll find some useful and entertaining posts on our page.
ACCESS TO ILOVETORUN™ PLATFORM
Full use of our site features: upload miles manual or sync via FitBit, Strava, MapMyRun, Runkeeper (Garmin coming soon), track progress, connect with fellow friends, post pictures and cheer each other on. Create eBibs, collect rewards and much more.
Give $5, Get $5! For every referral, both you and the person you've referred will get 50 Reward Points ($5 credit towards any item on our website).